Je geeft aan dat je last hebt van vermoeide, zware, of overmatige spierpijn in de benen bij sportieve activiteiten. Daarom wil je ondersteuning na het sporten. Klopt deze beschrijving niet? Vul dan de Bracewijzer opnieuw in.
Recovery long socks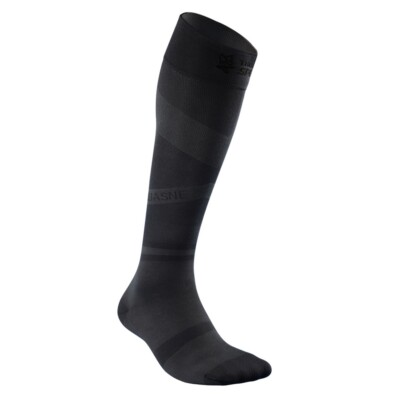 Overmatige spierpijn na of overmatige krampen tijdens het sporten
Je kent het wel, na het sporten heb je last van je spieren. Een veelal herkenbaar stram gevoel, waardoor bewegen niet zo makkelijk gaat. Spierpijn op zich is een onschuldige en juist 'gezonde' pijn. Je spieren zijn zich aan het herstellen van de inzet en daarbij zijn ze aan het aansterken. Deze pijn gaat over het algemeen snel over. Kleine spierbeschadigingen, die ook bij gezond sporten worden gecreëerd, zijn aan het genezen. Dus niks om je zorgen over te maken. Echter in sommige situaties, of bij extreem sporten, kan de spierpijn erg hinderlijk zijn. In deze situatie is het verstandig om een herstelkous te dragen direct na het sporten.
Naast spierpijn is kramp ook een vervelende pijn die je zomaar kan voorkomen, veelal tijdens het sporten. Kramp is een onverwachte en oncontroleerbare samentrekking van een spier of spiergroep. Meestal de kuitspieren. Belangrijk is om dit met rekken of andere methodes direct op te lossen. Denk aan voetballers die met kramp op het veld liggen en een teamgenoot of sportverzorger die de spier oprekt, een herkenbaar beeld bij teamsporten. Kramp ontstaat veelal bij zeer vermoeide spieren.
Een compressiekous met relatief lage druk is een uitgelezen hulpmiddel voor hulp bij herstel na een training. Een compressiesleeve (kous zonder voetdeel) helpt je om krampklachten te voorkomen.
Een compressiekous werkt door druk van buitenaf op het been te brengen. Dit helpt bij een effectieve bloedstroom van en naar de benen. Als je een compressiekous wilt aanschaffen, is het belangrijk dat je een kous met een verantwoorde opgebouwde druk (graduele compressie) koopt. Dit betekent dat de druk bij de enkels hoger is dan de druk bij de knie. Daarnaast is het belangrijk dat je een compressiekous kiest die past bij jouw situatie.
Een compressiekous lost de aandoening niet op. Het is daarom verstandig om jouw klacht ook altijd kenbaar te maken bij een daartoe bevoegde zorgprofessional, voor een goede indicatiestelling.