Je hebt last van onverklaarbare enkelpijn of bent in de herstelfase van een enkelblessure en je wil ondersteuning tijdens zware dagelijkse activiteiten en/of fysiek werk. Klopt deze beschrijving niet? Vul dan de Bracewijzer opnieuw in.
Malleo Promaster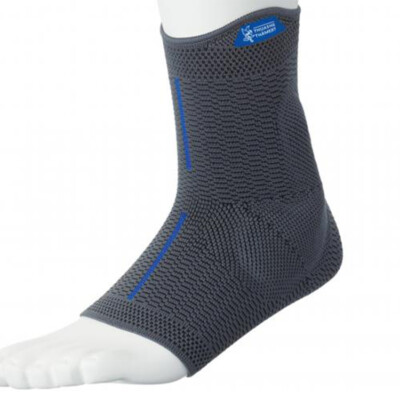 Enkelklachten
De enkel is een complex gewricht met veel botjes die gezamenlijk nauwkeurige bewegingen tot stand brengen. Gewrichtsbanden houden deze botten bij elkaar en spieren en pezen zijn de motor van de beweging. Tussen alle gewrichten zit kraakbeen om gewrichtsbeweging zo soepel mogelijk te maken.
Verzwikking of verstuiking is een welbekend begrip. De enkel heeft (veelal tijdens sporten) een extreme beweging gemaakt, waardoor enkelbanden zijn gescheurd. Nadat je hebt gekoeld moet je enkel herstellen. Hier kan een compressiebrace je goed ondersteunen. Deze zorgt ervoor dat er geen tot minimale zwelling kan ontstaan. Over het algemeen zorg je ervoor dat je je enkel in deze fase in verhoogde positie houdt in rust. Na een aantal dagen wil je weer je dagelijkse activiteiten gaan hervatten ook hier kan een enkelbrace (veelal met een specifieke pelotte) je ondersteunen en zorgen dat je verantwoord beweegt. Mocht je enkel weer genezen zijn, dan is het raadzaam om te gaan sporten met een speciale enkelbrace, die ervoor zorgt dat je niet weer een verzwikking of verstuiking oploopt.
Daarnaast kan artrose je ook erg belemmeren in je activiteiten. Hier kan een enkelbrace, met specifieke pelotte, helpen de pijn te verlichten.
Het is raadzaam enkelklachten altijd te bespreken met je huisarts en/of fysiotherapeut. Zij kunnen een indicatie stellen en samen met jou een behandelplan opstellen. Een brace kan hier heel goed een onderdeel vanuit maken.